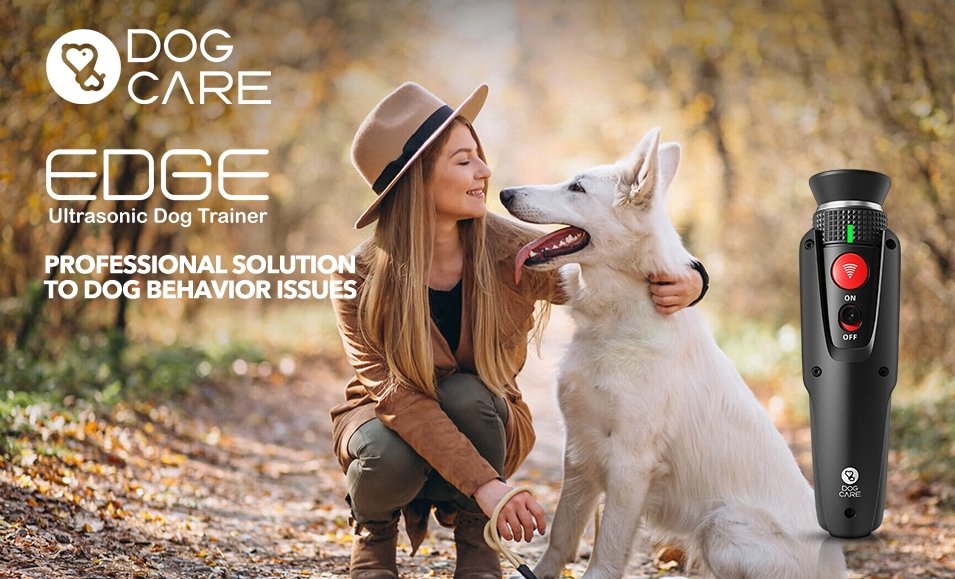 Dogcare's Second-generation Bark Control Uses Advanced Patented Ultrasonic Booster Technology
What is an Ultrasonic Bark Control?
What is the Application of Patented Ultrasonic Horn Head Technology in Bark Silencers?
What Are the Primary Purposes of the Second-generation Bark Silencer?
What Are the Main Advantages of Second-generation Bark Silencers?
What Are the Precautions when Using an Ultrasonic Bark Silencer?

A bark control is a specific type of training device that is used for training purposes when a dog with a tendency to bark excessively. It is designed to negatively reinforce the barking behavior and, over time, cause the dog to avoid that behavior. Excessive barking by some dogs could invisibly cause significant distress to neighbors and passers-by, so many pet owners want to train their dogs not to bark when unwanted.

DogCare's ultrasonic bark stopper can help the owner to train the dog better, allowing your dog to be a good family member who is well-behaved and polite; dogs are fun-loving, loyal, and affectionate. They add warmth, unconditional love, and daily playfulness to your home.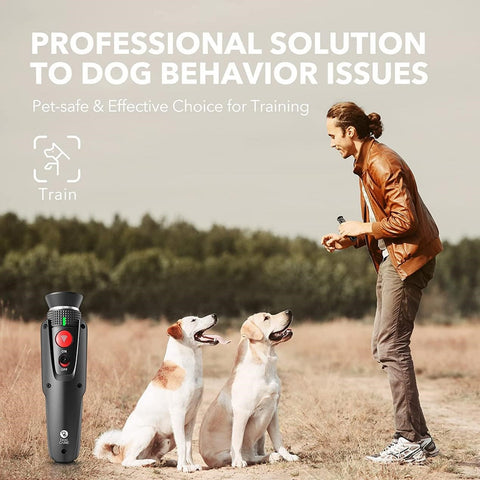 What is an Ultrasonic Bark Silencer?
Ultrasonic bark silencer mainly uses ultrasound to stop the dog from barking. When the dog is barking or dismantling the house, the button of the bark arrester can be activated, and the bark arrester will release high-decibel ultrasonic waves with a variable frequency. Up to 25000Hz, the sound frequency that dogs can hear is much higher than that of humans. Therefore, the ultrasonic bark stopper will stimulate the dog to stop barking and other behaviors, while the ultrasound will not cause any impact negatively on humans.

It is worth mentioning that the ultrasonic bark silencer will not negatively affect the dog's health. It will not affect the dog's hearing system and emotions, and it can completely get rid of the trouble of the collar and make it more convenient to move. It is evidently seen that our bark silencer is also the safest and most effective way to stop excessive bark within the market on a global scale.

DogCare's second-generation ultrasonic bark silencer has adopted the cutting-edge patented ultrasonic speaker head technology, which is more effective and more practical than traditional ultrasonic anti-bark devices.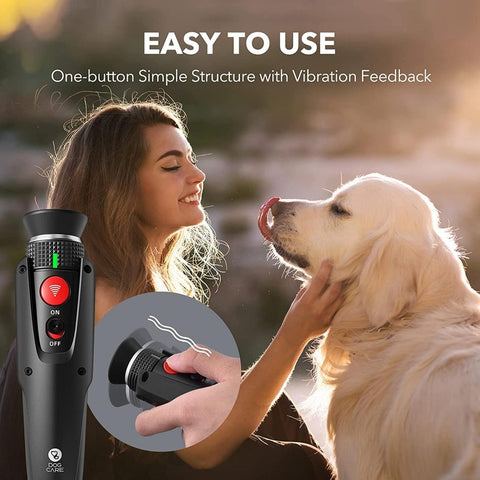 What Are the Uses of Patented Ultrasonic Booster Technology in the Bark Silencer?
DogCare's second-generation ultrasonic bark silencers have adopted the advanced ultrasonic horn patented technology, and its performance is more effective and superior. Even though the anti-bark device only uses an integrated ultrasonic transmitter, it can also emit powerful ultrasonic waves at a long distance, and the emitted ultrasonic waves are refracted and collected by the ultrasonic booster. As a resultant, the sound waves will become more directional and more accurate.

The application of patented ultrasonic horn technology enables the effective control range of the second-generation bark control device to reach 30 feet. Its effective control distance has even been extended by more than 50%, So you can use this bark stopper on many occasions.
Even in the wild, you can train your dog better with the help of our bark silencer.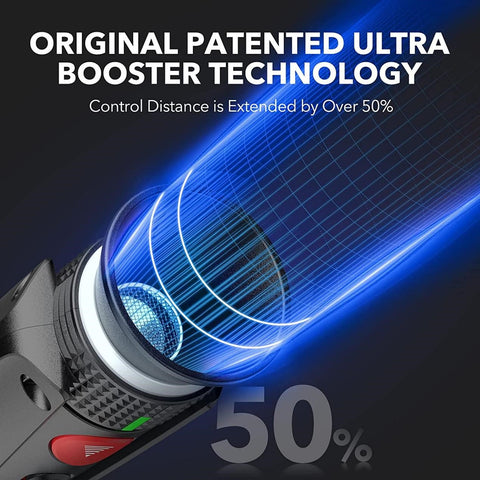 What Are the Main Purposes of the Second-generation Bark Silencer?
DogCare's second-generation ultrasonic bark silencer has adopted new patented technology so that the performance of the current model is more superior to the next level. Using this device, you can train your dog better. When the dog has some destructive behaviors, such as excessive barking, people attacking, and eating indiscriminately; If a dog barks or tries to escape, they are given an immediate consequence that controls the behavior. you can send ultrasound through the bark stopper to stimulate the dog's auditory system to stop the bad behavior. The amount of shock can be easily administered from a distance. It is very important to adjust the shock carefully, as too great a response can cause the dog to become stressed out or fearful. Too little force can be ignored by the dog.

In order to have a better training effect, you can gently pet the dog when the dog stops or reward the dog with some snacks to let the dog know your intentions. Of course, this action may need to be repeated several times to let the dog fully understand, so you need to have enough patience to accompany your dog to learn and progress together.

Using the second-generation DogCare ultrasonic bark silencer, you will train your dog better and quicker.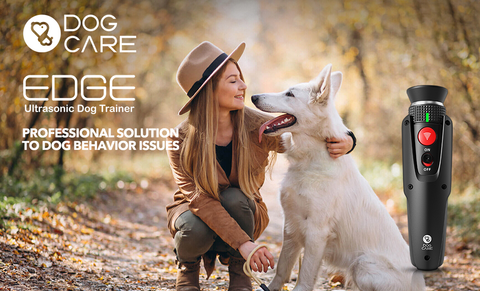 What Are the Main Advantages of the Second-generation Bark Silencer?
1. Applicable to various places: the use of advanced ultrasonic patented technology, its effective control range can reach 30 feet, so you can use the device indoors or outdoors.

2. Safer: The ultrasonic wave released by the bark stopper will not cause any harm to the dog, nor will it harm the dog's hearing system, and it will not harm the human body.

3. User-friendly: The operation of the bark arrester is very simple. Even if you don't have any dog training skills, you can easily use the device. The second-generation ultrasonic bark arrester only has a large training button and user guide. It can be used easily only through simple exploration.

4. Applicable to all types of dogs: No matter what breed or size your dog is, you can use an ultrasonic bark stopper to train them. The device completely abandons the drawbacks of traditional collars, not only can make the dog more comfortable, but also more flexible to use.

5. With vibration feedback device: The anti-bark device is equipped with a vibration feedback device. When the anti-bark device is running, it will produce a slight vibration, so you can better understand whether the anti-bark device is running, So there is no need to worry about long-term running to cause trouble to the dog.

6. Long battery life: The ultrasonic bark silencer uses a large-capacity lithium battery, which can stand by for 6 months and supports 4 months of use. It only takes 4-5 hours to complete the charging.

7. Super Portable: The ultrasonic bark silencer is ultra-thin and light, so you can take it to any place; even if you travel with a dog, there is no problem at all.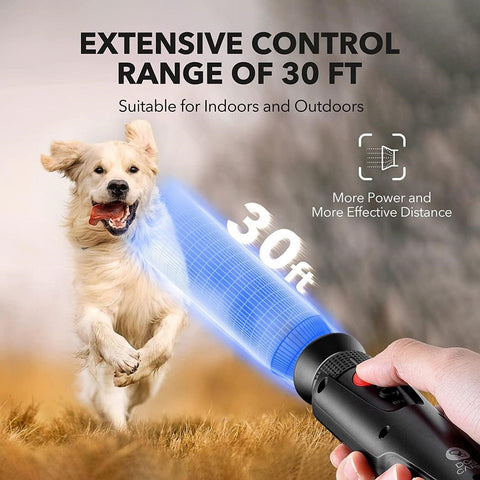 What Are the Precautions when Using an Ultrasonic Bark Silencer?
When using an ultrasonic bark stopper, you should use it in the correct way to prevent accidents.

1. When in use, it should be used in front of the dog, and there should be no obstacles in the middle. Otherwise, it may affect the transmission of ultrasound.

2. Do not use this equipment on people, dogs under six months of age, pregnant dogs, and elderly dogs.

3. Place the ultrasonic bark silencer out of the reach of children.

4. Keep away from heat sources.

5. The ultrasonic bark silencer is not waterproof, do not operate the bark silencer with wet hands.

DogCare's second-generation ultrasonic bark silencer adopts patented ultrasonic booster technology, which is highly versatile and is more practical, and is more suitable for dog owners to train dogs in various occasions.

If your dog has destructive behaviors such as barking mom stop, DogCare second-generation ultrasonic bark silencer would be a great helper and we believe that it will be your most reliable choice. While training your dog to stop barking may seem like a time-consuming burden, it can often prove more successful when simply with the help of using a bark silencer in the correct way.