Halloween-Dog Parade Letting your dog enjoy a cheerful time.
How Can We Let Our Dogs Participate in Halloween?
Where Will the Halloween Dog Parade Be Held?
How to Dress Up Your Pooch to Allow Your Little Loved on Stand out in the Parade?
What Are the Entertainment Activities for Dogs During the Parade?
When Halloween arrives, the little devil in everyone's heart can no longer be restrained; we are eager to postpone what we need to do for work and prepare ourselves in a festive mood and prepare to get dressed up and decorate our homes. Also, Halloween is a paradise for children. On this day, children can ask for candy unscrupulously. Otherwise, they would trick or treat if those little devils did not receive what they wanted.
Countless dog owners treat their dogs like their own children with love, so before Halloween comes, they will make sufficient preparations so that the dogs can spend a cheerful Halloween.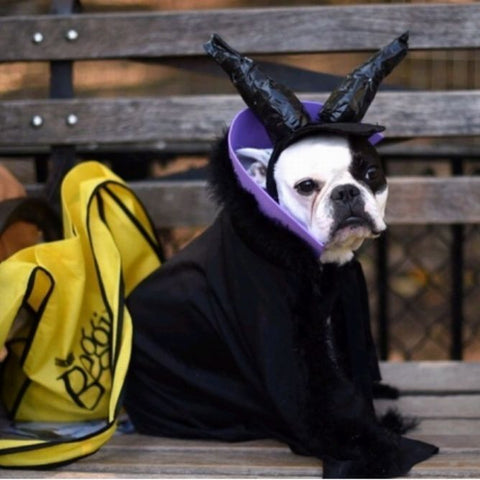 How Can We Let Our Dogs Participate in Halloween?
The classic Halloween activity is certainly—playing a ghost. On this specific day, people will put on something horrifying and trying their best to create a horrific atmosphere at their homes, by putting on some scary customs and wearing frightening makeup. Usually, the fun part is that whoever is the scariest is the winner and the most popular in the party.
In order to allow their beloved dogs to participate in Halloween and better enjoy the festive atmosphere of Halloween, dog owners would happily often buy costumes and headdresses for the dogs in advance with the intention to dress them up as little demons.
It is a very common trend for dogs to participate in Halloween, and now a large-scale event-the dog parade has been formed. On Halloween, the hosts will dress up their dogs, and then go to the parade to compete who got the best and scariest outfit.
Dogs can take advantages of this festive opportunity and meet their good friends on the event while being accompanied by their owners. Halloween is the happiest day for dogs. That is because they run recklessly in the company of their most loved owners and rolling freely around with their companions. In other words, a "horrible" holiday is the happiest holiday for dogs.
If you want to bring more happiness to your dog, then take your dog to participate in Halloween as soon as possible. You must know that your little loved pooch can also be emotional, it is no doubt that he or she would also love to be the crowd's focus in the festival and be very proud as well.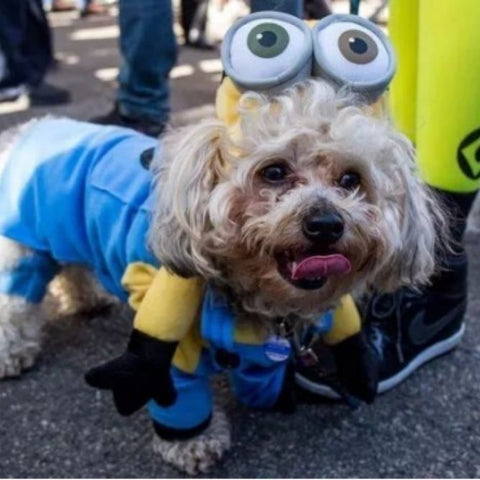 Where Will the Halloween Dog Parade Be Held?
Halloween is a traditional holiday in Western countries. In the continuous development of society, the parade of dogs in costumes has also reached a certain scale. Basically, every country has a dedicated dog parade venue where you are most welcome to bring your little loved one with you during Halloween. It is also a perfect opportunity for your pet to be social and get to know more doggo friends.
Here are a few venues for the upcoming Halloween Dog Parade:
1. New York: East River Park Amphitheater, Tompkins Square, New York City.
2. London, England: Hampstead Park.
3. California: Murphy Avenue in Sunnyvale.
4. South Florida: Culture and Art Park.
5. Chicago: Chicago Museum of Contemporary Art.
You can choose the most suitable spot nearby and then try your very best to thoroughly dress up your dogs so that they can show up proudly and stunningly ready to be the focus of the audience.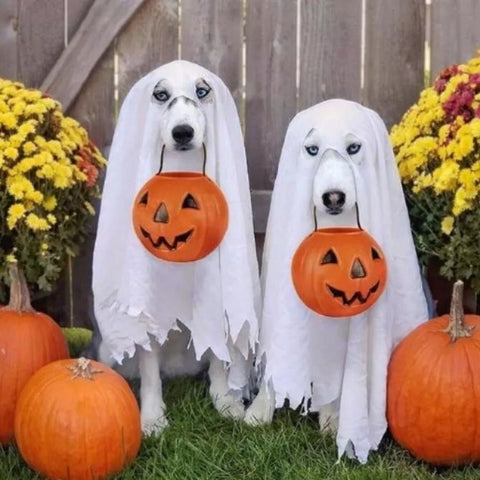 How to Dress Up Your Dog to Make It the Center of the Crowd?
The dog breed should not matter, no matter whether your dog is either Satsuma, Husky, Golden Retriever or Bull Terrier, you can turn them into little demon in Halloween by dressing them in different ways.
If you happen to be a handy and with strong hands-on skills, it is practical to use the materials available around you to make some "thriller" clothes for your dog. Surprisingly, the white bed sheet is a perfect option for your little friend pretending to be a ghost. Simply covering the dog with the white bed sheet and only leaving out the eyes, nose, mouth and ears areas is simple, yet is enough to be horrified.
If you in any case running out of time, it is also a brilliant idea to directly buy some horror-themed dog clothes at stores, such as the classic images of pumpkin devil, little pirate, lion king, etc. Adorably, the horror reveals a little cuteness in some way.
Another fun suggestion is that you can put on fruit clothes for your dog, or letting them wearing headdresses to dress up dogs as pineapples, mangos, flowers, etc.
You can even put on a white wedding dress for your dog and dress it up as a "dog bride". Or it is hilarious to maybe dress the dog as Michael Jackson, John Lennon, etc. Just try your best and give a full go to your whimsy; you will get a lot of surprises and be entertained both for you and for your little furry friend, and spend an unforgettable Halloween with your loved pet.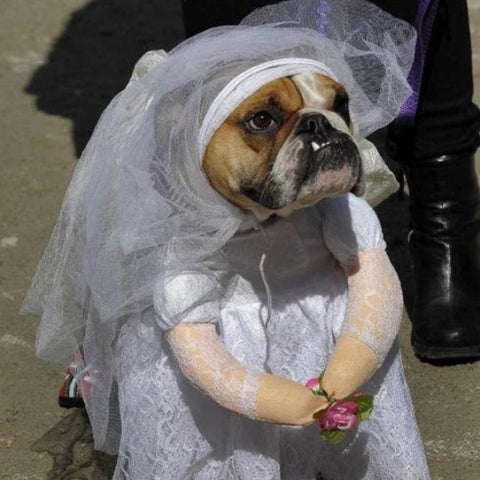 What Are the Entertainment Activities for Dogs During the Parade?
For many owners who love their dogs very much, they will think that they will dress up their dogs in all kinds of peculiar appearances and let them attend the dog parade only to please the owner, which makes many people reluctant to do so. Actually, the thing is, on Halloween, the dogs dressed up in costumes will have a lot of entertainment by attending the festive activity.
1. Playing with the owner and be social with doggo friends
To put it simply, when attending a dog parade on Halloween is a rare time for dogs and their owners. Dogs are very loyal pets; mostly, they spend all their time with their owners and waiting at home. This could be a fantastic opportunity both for the dog and the pet owner; accompanied by the owner, a stronger bond between dogs and pet owners can be strengthened by playing in the parade, seeing your cute little loved one running around all in excitement, interacting with the owner, and meeting more friends. This could be really exciting and rare leisure time for both of you.
2. Costume competition
You can dress up the dog as a variety of quirky images according to the characteristics of the dog, and then let all the dogs compete in costumes in the parade, it is unbelievably fun for doggos to participate in some costume competitions and there are many parade venues with such activities. Allowing the dogs to show their weird styles to the fullest on that specific day is the whole point. If you have the chance, you will get awards such as the best costume, the best dog, and maybe there will be huge prizes!
3. Trick or Treat
In the dog parade, there will be booths of many vendors. They will display a variety of dog-related products, including tasty dog food. So, it could a brillent opportunity to take your dog there and ask for candy. It would be challenging for anyone to refuse to give bits to your cute little dog. Otherwise, there will be tricks for certain.
4. Performances and photo taking
Dogs are super intelligent animals. Many dogs are equipped with unique skills taught by their owners. Most of the time, they are also willing to show them to others. It is believed that dogs' emotions are compassionate. When they feel praise and praise from others, you will definitely see innocent smiles and proud expressions appearing on their faces.
In addition, it could be super flattering when there is professional photographers taking pictures of your dog, The spookiest season of the year calls for Halloween home decor, sweet treats, and of course, costumes for your dog. After you've stocked up on the best Halloween candy for all your trick-or-treaters and finished making an impressive costume, let your pooch join in on the fun with a dog costume. Because after all, they're part of the family, too! Whether your dog thrives when dressed up or not, it is a seriously joyful time both for you and your pup.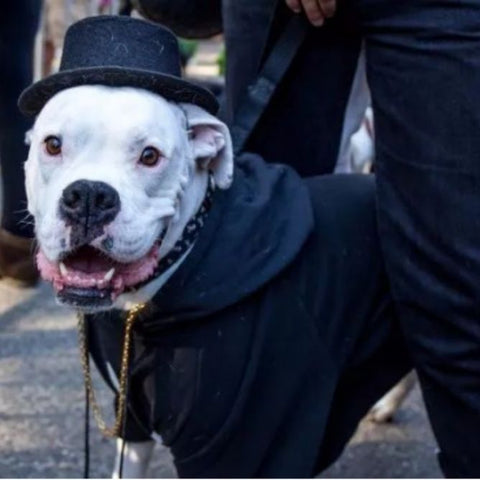 Halloween is not just a festival for people. In such a festival full of horror, take the chance and dress your pups in their spookiest outfits and mingle with other costumed dogs, so that dogs can also celebrate Halloween joyfully.