How to Choose the Perfect Gift for Your Cat on Black Friday and Cyber Monday?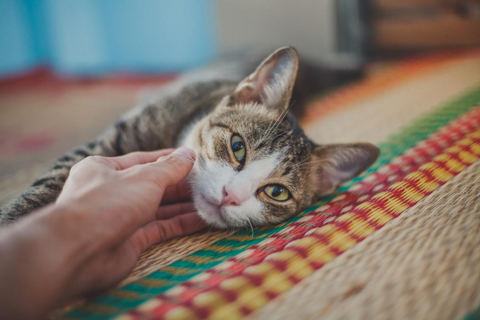 Black Friday and Cyber Monday are on the horizon, but special offers on items for pets have already started to arrive. To our furry feline overlords, any day is a good day for a gift. Go ahead, just try to convince them otherwise. But while offerings of empty cardboard boxes and discarded paper clips are welcome, if you really want to win their favor, only a proper present will do. DogCare is aware of it and presents you these unbelievable products to purchase and even provides you with DIY ideas through the upcoming Holiday Season.
In this guide, we've collected staff-recommended gifts for kitties (and the humans who love them). So you can rest assured that your present will be purrfect—whether it's a delightful and comfortable bed or a noiseless water-fountain from DogCare.
Get on the nice list. Sign up for our newsletter to get all the best gift guides, deals and holiday planning advice.
Things to consider before purchasing Gifts for Cats
Safety
The number one thing to think about before you make a purchase of presents for cats is safety. Cat toys are not subject to the same safety standards as toys for humans. Make sure that the toy you choose is non-toxic and safe.
Avoid toys that have small parts or pieces that can easily be chewed off by your cat. These are items that a cat may swallow. They can get stuck in your cat's throat and cut off breathing or if they end up in your cat's stomach could cause major distress for your kitty – and vet bills for you!
Ideally, anything you buy for your cat should be big enough that they can comfortably carry it in their mouth. However, you will need to trade that off against it not being so small that your cat could swallow it.
Check the materials of any play or gift items for harsh or rough surfaces and sharp points that could injure your kitty.
String toys and wands can be great fun but do not let your cat play with these cat treats unsupervised. Strings can easily be a choking risk or if it gets caught up in your cat's paws and they can't remove it a major source of stress for your cat.
Durability
Remember that your kitty has sharp teeth. Toys or items need to be tough to withstand falling apart – and you don't want your cat eating any stuffing or insides of toys.
Cats do get bored quickly so look for something that challenges your kitty and works in with their core ongoing needs – like scratching – for a longer life toy.
Preferences
Every cat is unique. Some cats are high energy and love running around. Other cats will prefer toys and gifts that they can use with their owners. Many cats don't even like catnip and catnip toys!
So remember to take your cat's preferences into account when choosing them a gift. Also, older cats will be much less likely to use a gift that involves running around no matter how good a gift it is.
Take into account your cat's personal preferences as well as its age and lifestyle to help you in choosing the best cat gifts.
Pawsome ideas for cat gifts:
A purified water fountain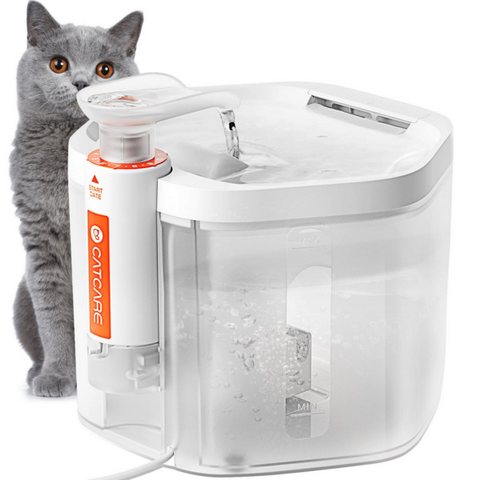 There are many benefits that come along with using cat water fountains. For example, water fountains ensure that there will always be water available for your cat during the day, which will help to keep them properly hydrated. It encourages even the most discriminating drinkers to hydrate. And some cats just prefer running water to stale, stagnant water in bowls! 
CatCare Pet Water Fountain is not only ultra quiet, but also has low consumption. It removes 99.9% of Harmful Pollutants and its filter can be used up to 90 days.
Anyone who has had a cat for long will knows that having our water fountain comes with heaps of benefits. Perhaps now is a good time to try our cat water fountain!
As special dates approach, we thought this guide would help you make the right decision with a little help from us and special bargains at just a click away!
Click here and learn more about our fountain and all our products before they are sold out! https://dogcare.net/products/ultra-clean-water-fountain
So do not miss this awesome opportunity clock is clicking, and HAPPY SHOPPING!
Ball Toys
Most cats love a ball based gift. This might be a game or a puzzle. Cats like the mental challenge of a puzzle game where it gets to chase. This can be an easy handmade ball with socks attached with a thin rope simulate a prey. Cats will have a fun and will also be entertained for some time!
Boxes
Cats love sitting and hiding in boxes. Even the biggest cats will try to find a way to squeeze into a shoe box! Try closing up a medium sized box and cutting a couple of holes in it. Your cat will be able to climb in and out of it.
Toilet rolls
Empty toilet rolls are a cheap way of keeping kitty happy. You can turn them into puzzle toys by popping a few treats in then folding the edges inside and letting your cat figure out how to get inside.
However, if you want to invest in designed and quality products for your fur friend, at DogCare we offer a variety of items that will make improvements with your bond and living together. Do not forget we are different species with distinct requirements in order to feel satisfied. Here we leave you with different options.
Join us on https://dogcare.net/ for more professional tips, latest news, and special events.