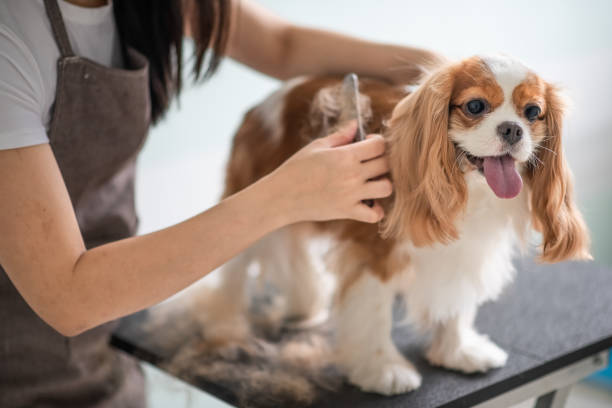 How to Relax Your Dog When Grooming
All dogs need to be groomed. Whether that's trimming their fur, brushing their teeth, clipping their nails or maintaining ear hygiene, your dog relies on you to keep them healthy. Keeping a dog calm and comfortable during a professional groom or at home with you is extremely important for achieving a safe and accurate cut.
Whether you're taking your dog to the groomers or doing the grooming, read on for tips on keeping dogs calm to minimize discomfort for your dog. If you want the finished result to be as flawless and stunning as possible, it's important to meet the needs and requirements of the dog during the grooming process.
Allow them to explore the equipment
Making sure that your dog feels safe in your hands is the only way to build a trusting relationship with them.  Encourage the dog to explore the equipment for themselves, then allow them to sniff and make contact with it, turn on the clippers and let them hear the noise that they make. At first, start slow with grooming and let your dog look and smell all the tools that you will be using so the whole experience is positive. 
Speak softly and give them praise as they gain confidence while exploring. You want this initial introduction to be a pleasant experience. You're helping them understand they have absolutely nothing to fear. Calm and happy dogs are the best dogs to groom, so it's important to take baby steps when first introducing a dog to the grooming equipment and room for positive future grooms. 
Put your dog at ease
Your touch and attention offers your dog reassurance that nothing bad is going to happen to them. If you're feeling calm and relaxed your dog will take your lead. Take a moment to stroke your dog gently to release any stress or anxieties. Praise them softly to help your pup settle more easily and to show them calm behaviour is what you want in this situation.
Remember that your dog picks up on your emotions. If you're feeling anxious about grooming, it's understandable, but you need to ensure that your dog does not pick up on it. Calm yourself down before you start. The worst thing that can happen is that you fail to groom your dog and you have to try again another day.
Use treats
If you have a dog that is particularly nervous around grooming equipment or doesn't deal well with the whole experience, treats are an ideal way to reward them for allowing you to groom them. 
When they stand or sit still and allow you to maneuver them as you need, reward them with verbal praise and a treat. Your dog will begin to connect remaining calm with rewards for more relaxed grooming. You can also try offering lickimats so they can be entertained with an activity that is also relaxing. Eventually, grooming will become much less of an ordeal for the dog.
Your dog is also tuned in to what is happening around them. They have a good idea of a normal daily routine, and when you start to do things out of the ordinary, they pick up on this. That is why dogs know that you are planning on going away or getting them ready to go to the vet. Carry on with your day just like any other day and only get your grooming head-on when it is time to start that task.
Take breaks
If they have very long hair and you are needing to shave them down short give them breaks every 30 minutes. This will keep them from getting stressed. If you have a puppy, it may take them all day to get their hair cut because you will usually groom them in short sessions to allow them to get used to being groomed.
Sometimes your dog will just have had too much. This is an excellent time to stop for the day. You do not want to stress your dog out while grooming. If they are continually whining or growling at you, stopping for the day and trying again in the next few days will be the best.
If you carry on when they're clearly restless they'll come to associate grooming with a negative experience. Doing little and often will build their trust in you and help them slowly adjust to their grooming routine.
What you should avoid when grooming.
When you are grooming your dog, you should avoid them getting overly stressed. Once they become stressed and start panting their body temperatures can elevate very quickly, causing them to become overheated. This is similar to heat exhaustion even though they are not outside. Some dogs when they start panting very heavy can not be taking in enough oxygen and also pass out from the stress.
While grooming is usually needed in pets, some get very stressed and need supplements to help keep them calm. Ask your vet for natural supplements for stressful situations, and begin to use them several weeks in advance. If your pet is stressed and breathing very hard, it is best to stop grooming for that day and try again a different day.
Keep your frustrations outside. Your dog will respond to your stress levels if you react to their behavior. Don't yank at your dog or shout at them for not sitting still. Grooming can be a distressing time for your pup if it's not handled with care.
Shop quality products and tools.
Remember that the more often your dog is groomed, the more accepting they will be of it. It can be very tempting to leave it as long as possible if it is a difficult process, but this will only serve to make matters worse. Turn it into a positive experience, reward your dog for calm behavior, and remember that there are tools, that will make the process even more relaxing, such as our grooming clippers, which are ultra quiet, with heatproof blades and a smart motor that senses the level and thickness of pet hair and automatically adjusts to optimal speed.
How does your dog react to grooming? Are they a dream to work with or do they need a little encouragement? We hope this guide will help you make it easier and more pawsitive for the both of you! 
Let us know how you and your dog get on DogCare Social media!