Dogs May Become Rebellious "teenagers" in Adolescence,how Can Owners Help the Dogs Get Through?
Adolescence, the period of children's life when they are most vulnerable to outside influences, is a relatively scary time for parents. After all, children of this age are experiencing hormones that are raging out of control and are often rebellious. They never obey orders or listen to advise. If you ever own a dog, this experience may seem familiar to you. True, your dog may go through puberty like human teenagers and become rebellious. Hope the following share can answer your questions: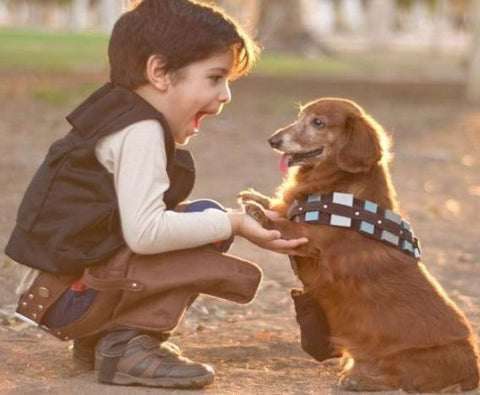 Contents:
When Does a Dog Enter Adolescence?
What Are Adolescent Characteristics in Dogs?
How Should Owners Treat Puberty Dogs?
When Does a Dog Enter Adolescence?
Some people endorse the algorithm that one year of dogs is equivalent to seven years for humans. Thus, they conclude that dogs' puberty happens when they are two to three years old. However, the fact is that this conversion algorithm between dog and human age is not wildly accurate. A dog becomes mature when it grows to about one year old. A dog of two or three years old is already considered a mature adult. The puberty of small dogs begins when they are six months old, while the puberty of large dogs may start around eight months. A dog's Adolescence can last for a relatively long time, ranging from six months to two years. So the dog owner has to prepare for a protracted battle.
What Are Adolescent Characteristics in Dogs?
1. Developmental pain
Dogs at the age of six to eight months old begin to change their teeth. You will find that they become particularly fond of biting the corners of sofa tables and sometimes even biting people. In fact, they are trying to relieve pain and discomfort by chewing. In addition, just like humans, dogs feel uncomfortable when their muscles and bones are experiencing rapid growth. They behave restlessly and send out attack signals even when they just receive a little bit of teasing.
2. Increased territorial awareness
The puberty dogs are in the transitional period between infancy and adulthood. Their thinking mode begins to be biased towards maturity, but their behaviors still stay in their infancy. The specific manifestation is that they gradually have the consciousness of occupying territories, but their handling methods are like puppies. They usually declare sovereignty to the "intruder," often with rude and offensive behaviors. If they are regarded as provocative by the other party, two dogs will easy to fight constantly.
3. Sexual maturity
Sexual maturity is one of the most prominent characteristics of puberty. Regarding this, dogs are no exception. After Adolescence, male dogs are affected by hormones and exhibit typical male behavior, such as odor marking, straddling, and aggressive behavior. Female dogs will also have irregular estrus after sexual maturity. They start to show apparent interest in males while become aggressive towards females of the same species.
How Should Owners Treat Puberty Dogs?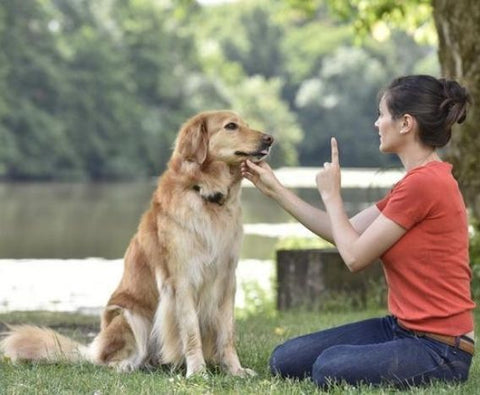 1. Continue training and behavior correction
Dogs become more stubborn and rebellious in Adolescence. They are likely not necessarily act according to your previous requirements even though they have previously mastered some basic skills and etiquette. Therefore, even your dogs have been trained before, you cannot take this process lightly. Practical passwords such as fixed-point defecation, obedience training, and "sit down" and "stop" must be constantly consolidated and strengthened. This can enhance the dog's obedience and prevent the dog from raising other bad habits during Adolescence. For those dogs with more severe behavior problems, the owner may have to re-use the dog cage, dog training device, fence, or other discipline tools and forcefully correct the dog's behaviors.
2. Keep social training
Dogs' socialization training is essential. Not only in puberty, but dogs also have rebellious behaviors similar to Adolescence in adulthood. This is because they have not completed the socialization process of dogs in the process of growing up. The so-called socialization of dogs is the same as humans'. Suppose a dog grows up with other dogs. In that case, it can learn how to get along with its companions and discover some fixed behaviors and habits from older dogs. Suppose a dog has been accustomed to household appliances such as air conditioners and vacuum cleaners since the dog was a child. It is accustomed to roads, traffic, and cars. In that case, it will be accustomed to these things and will not feel anxious. But if the dog lacks company since childhood, and no one takes him out to "see the world," the dog will not be able to adapt to the socialized life when it grows up. It is easily irritated by other dogs and frightened by large objects, causing anxiety and intense behavior.
Some owners may take dogs out less due to the worry that the dogs will go out to fight. However, such a method can cure the symptoms but not the root cause. This behavior may cause the dog to have difficulties communicating with other dogs in the future. Just like human beings, adolescents are fearless. We shall never isolate them entirely from the environment to avoid harm but to let them go and experience by themselves under the premise of ensuring safety. Only by contacting all kinds of people and dogs can dogs gradually learn how to socialize. So the owner should keep the dog out often instead. Although the dog may be aggressive in dealing with other dogs initially, it will gradually learn to control its own strength during this conflict. And the fight between dogs does not necessarily develop into a war. The owner only needs to pull the dog away before the situation escalates or commits offensive behavior.
3. Never beat and scold the dogs at will
No matter when and where, whether to a person or a dog, beating and scolding are not excellent solutions to the problems. Adolescent dogs may have some boresome and annoying behaviors, but beat or scold can never solve these problems. It will only make the situation worse. Therefore, dealing with puberty dogs, we should be more patient and tolerant. This is the ideal attitude towards puberty dogs.
It is a good thing for a dog to grow from a child to an adult. Although the process may be a bit rugged, as long as guidance and company from the owners are available, the dogs can also pass puberty smoothly.
Conclusion:
The guidance of Adolescence is crucial. Don't be anxious if your dog misses this and becomes an adult with a low socialization level. Just be patient enough and use the proper methods and additional tools. Your dogs can become good citizens as adults.
Thank you for reading. Hope this is helpful.