What is the best material for a pet water fountain?
One of the most difficult things pet owners have to worry about is what type of material they should use for their animal's water fountain. There are a few different options to choose from - stainless steel, glass, or plastic - but it is important to find out which type is best for your pet!
What to look for in a pet water fountain?
When it comes to choosing the perfect water fountain for your pet, there are a few things you'll want to keep in mind. Firstly, you'll need to consider the size of your pet--some fountains are specifically designed for small animals, while others are more versatile and can be used by larger pets as well. Secondly, you'll need to decide on the type of water fountain you want: gravity-fed or pump-style. And finally, you'll need to think about what material the fountain is made from--plastic is usually affordable and easy to clean, but some people prefer metal or ceramic fountains because they're more durable. Here are four of the best materials for pet water fountains:
1. Ceramic - Ceramic water fountains are among the most popular options on the market because they're both aesthetically pleasing and durable. They're also relatively easy to clean, which is a major plus if you have a pet that tends to get dirty easily.
2. Metal - Metal water fountains are typically heavier than plastic ones, which makes them more durable and stable. They can also hold up better against harsh weather conditions, making them ideal for outdoor use.
3. Glass - Glass water fountains are beautiful and practical, but they can be challenging to clean because of the delicate surfaces. They're also more expensive than other options, but they're worth it if you have a pet that likes to drink from high-quality sources.
4. Plastic - Plastic water fountains are affordable and easy to install, making them a great option for busy pet owners. They also tend to be more resistant to wear and tear, which is great if you have a pet that's prone to knocking things over.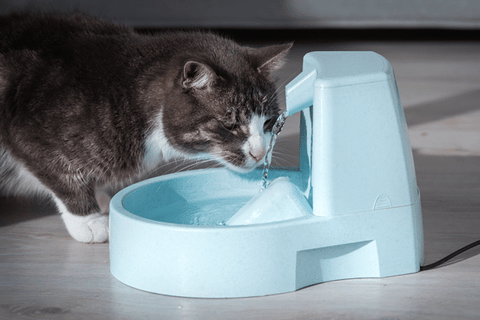 The different types of pet water fountains
Pet water fountains are a great way to encourage your pet to drink more water. However, not all pet water fountains are created equal. If you want to make sure that you're getting the best possible value for your money, it's important to understand the different types of pet water fountains and what they have to offer.
Cat water fountains: Cat water fountains have additional features that are designed specifically for cats. These include various kinds of filters and interchangeable drinking bowls that can be mounted in different locations.
Dog water fountains: Dog water fountains typically come with larger bowls than cat water fountains and sometimes come with additional features like a bowl guard so that dogs can't knock over their water while they're drinking from it.
Pet fountain filters: Some pet fountain filters are designed specifically for use in cat or dog fountains, while others can be used in any fountain. You'll want to choose a filter based on the size of your fountain tank and how much flow it requires.
Pros and Cons of different materials for pet water fountains
The main types of pet water fountains are ceramic, stainless steel and plastic. Ceramic and stainless steel are durable materials that can last for many years. Plastic is less expensive but more prone to wear and tear.
Ceramic Pet Water Fountain
Ceramic pet water fountains are made from a mixture of clay and other minerals such as quartz or glass. These materials give the fountain a natural, earthy appearance and make it less likely for bacteria to grow in the water. These fountains are available in different colours, shapes and sizes to fit any decorating style or budget. Some models have built-in LED lights that illuminate the water for an aesthetic effect at night or when it's dark outside.
Stainless Steel Pet Water Fountain
Stainless steel pet fountains are made from high-quality metal that won't rust or chip as some other metals do over time. This makes stainless steel fountains ideal for outdoor use because they won't corrode if they get wet or dirty during inclement weather conditions. Stainless steel is also easy to clean because it doesn't stain easily, although you should still gently wipe away any debris from the surface with a damp cloth before cleaning the fountain with soap and water.
Stainless steel pet fountains are normally more expensive than plastic or ceramic options, but they can last for years without rusting or chipping. The only real drawback to stainless steel fountains is that they are heavy, which can make them difficult to move around if you want to change the location of your fountain or place it in a different spot within your yard.
Plastic Pet Water Fountain
Pros:
-Plastic pet water fountains are the cheapest type of fountain you can buy. They may be the best option if you have a smaller budget.
-Some plastic dog fountains come with LED lights that make them attractive to your pets.
-Plastic pet water fountains are lightweight and easy to move around. This is especially helpful if you need to clean them or when you want to move them from room to room in your house.
Cons:
-Plastic pet fountains aren't as durable as ceramic or steel models, so they may crack or break more easily than other types of fountains. Many people find that plastic dog fountains only last for one year or less before they start leaking or cracking.
The most important thing to consider when choosing a fountain is what material it's made from.
Fountains made of ceramic, glass or stainless steel are great for households with cats or dogs that like to chew. These materials are non-toxic and can be cleaned easily by hand or in the dishwasher.
Plastic
Plastic fountains are the least expensive option, but they may not be as durable as other materials. Plastic can crack if it's dropped or sits on a hard floor. It's also easily scratched by your pet's claws or sharp teeth. If you do choose a plastic fountain, look for one that is BPA-free, so your pet doesn't ingest harmful chemicals from the plastic.
Ceramic
Ceramics is a popular material for water fountains because it's durable and resists bacteria growth. It's also easy to clean and looks attractive. Ceramic fountains generally come with a rubber ring around them to prevent leaks and protect the floor or furniture from damage in case of an accident (like a dog knocking the fountain over). The only downsides are that ceramic can be heavy (which may not be ideal for older dogs), and some models don't allow you to see how much water is left in the tank.
Stainless Steel
Stainless steel is another popular choice because it's very durable and easy to clean — wipe it down after each use! Stainless steel does tend to be heavier than other types of pet fountains, though, so keep that in mind if you have larger dogs or elderly pets who might struggle to lift something heavy into place when filling up or cleaning out of their bowl. Stainless steel is also more expensive than other materials like ceramic or plastic because it requires more steps during manufacturing to ensure there are no scratches or dents on the surface when it's finished.
Conclusion
There are a lot of factors to consider when it comes to choosing the best material for your pet water fountain. Size, shape, and price all play a role in determining which material is the best option. Ultimately, you need to decide what you are most concerned about - durability or looks. If you want a durable fountain that will look nice years from now, stainless steel may be your best bet. On the other hand, if you want something that looks nice and is easy to clean, plastic may be a better option. Whichever material you choose, make sure to read reviews before making your purchase so that you know what people have found to be useful and helpful in their own experience with that particular type of fountain.