Dog Training Collars Can Help You Train Your Dog Better
What Are the Effects of Wearing a Collar for a Dog?
What Are the Types of Dog Training Collars?
How to Choose the Right Collar for Your Dog?
What Are the Precautions for Using Dog Training Collars?
When it comes to training our pets and teaching them to correct unwanted behaviors there are several ways of doing it. One of the ways is with the use of a shock collar. A lot of owners are reluctant to embrace the idea of using this type of training and for this reason, the name of it has often been altered. Some people refer to it as an electronic dog collar or a remote training collar. The fact is that the benefits of training with a shock collar have proven themselves effective especially when dealing with behavior that has otherwise proven difficult to alter.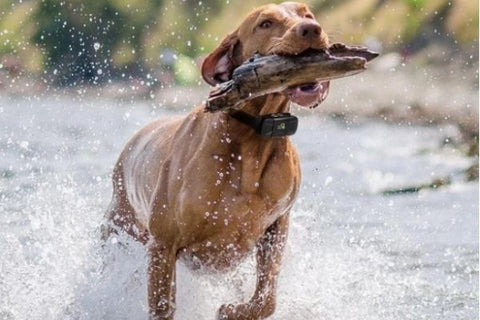 The dog training collar is an indispensable tool for effective dog training. It helps provide better communication with your dog. Dogs need clear and instant feedback from their owners. Instead of yelling and being frustrated, the remote training collar creates a bridge allowing you to better communicate with your dog. Therefore, what are the effects of putting a collar on the dog?
What Are the Effects of Wearing a Collar for a Dog?
When you've been dealing with undesirable behaviors, trusting your companion dog to be off-leash may seem like an impossible dream. But a remote training collar is the quickest way to safely transition your dog to off-leash freedom. You'll be able to confidently allow your dog to roam on your hike in the mountains, beach or campsite within weeks. The remote training collar will allow you to maintain control, communication and keep your dog safe.
What are the types of dog training collars?
1. Striped collar
This type is the most widely used collar among the dog owners as they are most readily available and seem most comfortable for the dog to wear. their material ranges from nylon, leather and cloth. A common error that dog owners make is letting their dog wear this for extremely long duration of times up to weeks and some even forever. This can potentially cause skin conditions in their dogs and they can become indifferent to being controlled with a flat collar.
2. Strap collar
Strap collar was first used to adjust the dog's walking behavior. It is also a very popular style in recent years. Many owners of distressed dogs who are strangled choose this type of collar. Strap collars can be divided into back buckle and front buckle. It is recommended to choose front buckle chest strap. This design has an adjustable effect and can better train dogs.
3. Purposeful collars
This is again a highly misunderstood collar like the Choke or Prong collars. The mechanism of this collar is transmitting a vibration or very low electrical pulse using a remote at the appropriate stage as a corrective stimulus. The thing to realize about this type of training is the fact that the collar itself is not designed to injure or even hurt the dog. It is designed to simply be irritating enough so that the dog would rather behave differently rather than receive the shock. The type of shock they receive is not at the level to do any physical or mental harm to the dog and is only used as a way to teach the dog that the behavior they're exhibiting is not wanted.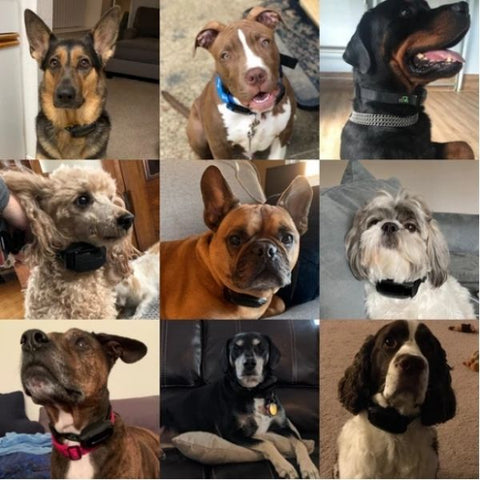 How to Choose the Right Collar for Your Dog?
If you are new to the dog owner world, you might be confused when it comes to choosing the first dog collar for your new pet.
1. Flat-buckle collar. This is the most basic piece of dog-related equipment, a plain collar that snaps or buckles closed. Many people use this type of collar to keep identification and rabies tags on their dogs. Besides being uncomfortable, a too-tight collar can dig into your dog's fur and skin, resulting in hair loss along with pressure sores. On the other hand, if the collar is too loose, it will slip over your dog's head and he will be free to flee! So before you buy, always measure the dog, keeping in mind that weight changes and even a recent haircut can make a difference on what size collar your pup needs.
2. For the strap collar, it is recommended to choose the front buckle chest strap, and use this dog training collar to match the correct dog walking method. This is totally an option to consider for your furry friend. If you have a dog that is a strong puller or has a delicate neck, a harness is a great alternative for walking. By putting the pressure of the leash clip on the dog's body/chest instead of their neck, it's much easier to control them and avoid injury.
3.For restraint adjustment collars, there are a wide range of choices to choose from. You can choose according to your own needs for the most suitable dog training collar. When choosing, consider the growth characteristics and habits of the dog. With a shock collar, you are able to more immediately let your dog know that their behavior is inappropriate and unwanted. When they receive that mild shock it will be enough to get their attention, and it will be fast enough that they will understand what behavior needs correcting.
What Are the Precautions for Using Dog Training Collars?
1. Wear the collar with moderate tightness
The collar should not be too tight or too loose for the dog, pay attention to adjust it to an appropriate tightness. Dogs will feel uncomfortable when they first wear it. They will want to break free from the restraint of the collar, so don't be too loose to prevent them from easily breaking free.
If it is too tight, it will affect their breathing, and it is not good for the collar to rub the dog's body hair and skin. It should be adjusted to a moderate degree of tightness.
2. Pay attention to clean the collar in time
The collar has been used for a long time, there will definitely be dirt and bacteria generated. If the dog's skin is damaged due to friction, the skin can be easily infected. It may also be infected with skin diseases, so don't ignore the cleaning routine of dog training collar. It is very necessary to clean the collar in time.
3. Remove the collar if necessary
There is no need to carry things like collars all the time. If they are carried all the time, the parts that have been rubbed for a long time will be prone to hair loss, and dogs like to bounce around. If they accidentally hook onto other things while playing, which is also detrimental to the safety of the dog. You can take off the collar when necessary to give the dog more freedom.
4. walk your dog properly
To use a dog training collar, the first thing to do is to master the correct way of using it. Ideally, your dog should walk at your side. They should definitely not be walking more than a few feet ahead of you because you will not have control if a distraction comes along. You might also consider a harness over a collar. Harnesses redirect any straining onto the dog's shoulders and chest rather than their neck.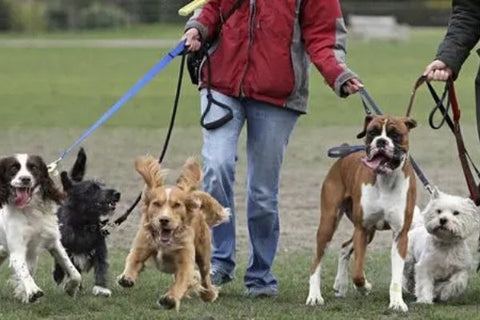 A dog is the only thing on this earth that loves you more than he loves himself. This article mainly talks about the role of dog training collars, the types of collars, the method of choosing training collars, and the precautions for using dog training collars. With the tips mentioned above, it might be helpful to help better you communicate with your dog, make your dog training process more manageable, and cultivate a well-trained and obedient dog for you.
If we are lucky, our dog will accompany us for more than ten years. They are enthusiastic, giving and loving. They are dependent on us their entire lives. We must feed and take care of our dog, this builds a massive bond. Choose a suitable dog training collar to cultivate good walking habits. Let them be happy, and accompany us one more journey.